Morning Worship – 548 Luzerne Rd. Queensbury – Sundays, 10:30 am Evening Worship – Second, Third, Fourth Sundays, each month, 6:00 pm
Questions? Call or text Pastor Ned Suffern's cell phone at 518-932-1967.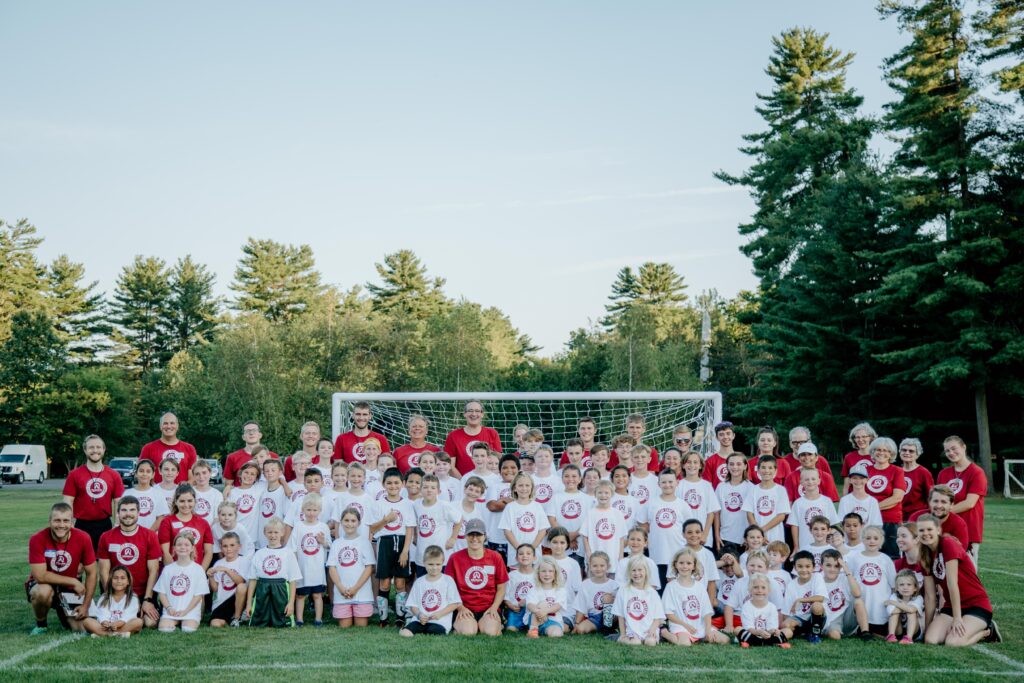 We give thanks to God for a successful Ambassadors Soccer Camp with attendance of 70 on Monday and Tuesday and 68 on Wednesday. The weather was great, soccer skills were thoroughly taught, competition was strong for the World Cup medals, and the campers had a lot of fun! Over half of the total staff of approximately 30 Christians at the camp, came from among the members and regular attenders at RRPC. Other churches represented included our cooperating church OneLife Community Church, Adamsville Baptist, Durkeetown Baptist, New Hope Church and Truthville Baptist Church.
The Bibletime message focused on faith in the Living God as displayed in the life of Abraham, whose willingness to sacrifice Isaac, his only son, pointed to our Heavenly Father's willingness to sacrifice the true Isaac, Jesus Christ, for our sins. We gratefully used curriculum provided by Ambassadors Football, an international Christian football ministry that runs camps across the world and across the United States. Our camp here in the Glens Falls/Queensbury is one the few that uses their ministry model utilizing home-grown leaders, led by Head Coaches Chris Miller and Nick Miller of OneLife Church. We were trained by a missionary, Aaron Soby from 2010 through 2012.
For more pictures, go to the Ambassadors Soccer Camp tab this website's menu.
Morning Worship – 548 Luzerne Rd. Queensbury – Sundays, 10:30 am This Sunday, August 7th, you are welcome to bring a main dish to share for a covered dish meal, joining us in the Log Chapel, food and fellowship. You are also welcome to bring a dessert or a salad, if you would like to join in filling out the abundant table of God's gracious provision.
Evening Worship – Second, Third, Fourth Sundays, each month, 6:00 pm
Sunday School – Classes for learning from the Bible about God and his love displayed to us in the good news of Christ, are offered for all ages at 9:30 a.m. on Sunday mornings.
Pre-K through Young Elementary – Meeting in the Log Chapel
Middle Elementary – Meeting in the Log Chapel
Middle School and High School – Meeting in the Log Chapel
Adults and Older Senior High School – Meeting in the Sanctuary, Elder Ken Burl is leading us in the study of how we can live abundant lives as Christians, trusting in Christ, relying on the power of the Holy Spirit to bring out the fruit of the Spirit in our lives. Elder Ken is using a book by Rev. Stan Gale called, "A Vine-Ripened Life: Spiritual Fruitfulness through Abiding in Christ", as Ken is teaching us from the Bible.
Wednesday Evening Bible Study is at 6:30 p.m., with men and women studying the book of Revelation. We are watching videos presented by Dr. Robert Godfrey, in a series entitled, "Blessed Hope". Joine us for lively conversation, and following the study, men pray at 7:30 p.m. in the sanctuary and ladies at 7:30 p.m. in the Log Chapel.
Redeemer Reformed Presbyterian Church is located at 548 Luzerne Road in Queensbury, New York, two miles off the Northway (Route 87), near Exit 18. Be in touch with us by calling our pastor, Ned Suffern at 518-932-1967, or by emailing him at nsuffern@gmail.com. You are welcome to our morning services at 10:30 a.m. each Sunday, and to our evening services at 6 p.m. on the second through the fourth Sundays of each month. In the months that have a fifth Sunday, our evening gathering is an informal Prayer and Praise Hymn Sing, followed by a fellowship time.
Announcement from the Session
At this time, in accordance with the latest NYS COVID-19 guidelines, the Session no longer encourages the congregation in the wearing of masks at any time during our worship services, as well as all education and fellowship events. Please feel free to wear one if you are concerned regarding your own personal health, however. We ask you not to attend worship services or education or fellowship events if you have recently had COVID related symptoms, unless you have also been tested and have received a negative test result. In order to continue to have good ventilation in the sanctuary, the Session will have two windows open. One of these windows will be opened at the front of the sanctuary on the right side and the other will be opened at the left-rear of the sanctuary near the sound system. The Session also wants doors to be cracked open in the Log Chapel for events held there. Thank you.
-The Session, February 17, 2022
Who is Redeemer Reformed Presbyterian Church? We are a fellowship of God's people, called as a body to glorify Him and enjoy Him forever, and in this, to support and encourage one another. We welcome you to join us as we worship God together, learn together from his word, spend time with one another and minister to those in need, showing and telling others of Jesus Christ's love displayed in the gospel. (See Colossians 3:16, Matthew 28:19, Galatians 6:10, Psalm 106:3).
We belong to the Presbyterian Church in America. It is our aim and purpose to worship God reverently and sincerely, to edify the children of God, and to reach those who do not know Christ with the Good News of the Gospel. We are firmly persuaded and convinced that the way to reach these three goals is to declare and proclaim the inerrant Word of the Living God. "So faith comes from hearing, and hearing through the Word of Christ" (Romans 10:17).